Join us at ASIS 2017 in Dallas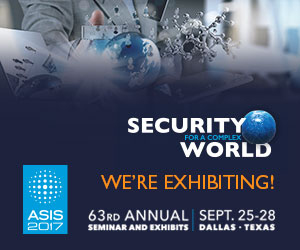 For over 60 years, ASIS Annual Seminar and Exhibits (ASIS 2017) has been the world's most influential event for the entire security industry...
providing world-class education, countless business connections, and the latest solutions and innovations on the market. Held every year in the fall, ASIS showcases more than 550 exhibiting companies, a conference program with 180+ sessions, and 22,000 security professionals from 100+ countries.
The ASIS 2017 exhibit hall is your best once-a-year opportunity to see the newest products and services, compare cutting-edge technologies, acquire the latest in​formation, and find new solutions, all in one place.
This year, the Impact Learning Theaters, located on the expo floor, will feature a series of 25-minute presentations by leading technology practitioners, end users, researchers, and thought leaders on a wide array of critical security issues and hot topics. This is an excellent opportunity to investigate innovative ideas and solutions in a more intimate setting. Free to all attendees.
GrateGuard is pleased to announce that we will be hosting a booth at ASIS 2017 in San Antonio, Texas, from September 25-28. Visit us at booth #541 and learn how GrateGuard high-security fence system can be an integral part of your project.
Read more about ASIS 2017 >>>
Share this page: