GrateGuard™ to exhibit at the AIA Convention 2016
The AIA Convention 2016 is the architecture and design event of the year. It's big, it's exciting, and it's where the community comes together for an incredible experience.
Set in the heart of historic Philadelphia, this important industry event brings together influential practitioners who set budgets, select vendors, and specify products.
The AIA Convention 2016 offers the opportunity to learn from industry experts, explore nearly 800 exhibitors with the latest in materials, technology, and trends, hear keynote speakers, and explore Philadelphia and some of the best-preserved historic buildings in the nation all while earning continuing education credit!
AIA Expo brings together the newest products, materials, and technologies—and the people who are experts in using them. A provocative lineup of celebrity speakers. An awe-inspiring array of tours, exhibitors, seminars, and more. All happening in a legendary American city known for attitude, passion and perspective.

Read more about AIA >>>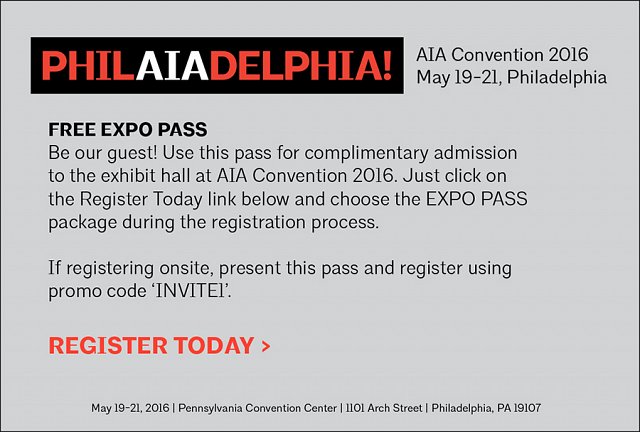 Share this page: